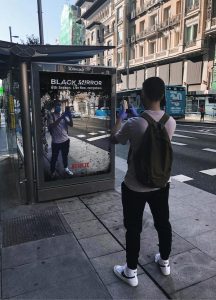 With so many events this year, from a global pandemic to protests, 2020 is increasingly looking like an episode of Black Mirror.
A mock Black Mirror advert has been circulating in Madrid, claiming season six is happening right now, in reality. The campaign, created by Madrid-based creative ad agency Brother, took stock of creator Charlie Brooker's suggestion that reality is currently feeling too much like a Black Mirror episode to be thinking about new seasons yet.
Mocked up on PhotoShop, the speculative advert (which Netflix has had no involvement with) reads: "Black Mirror 6th Season. Live Now, everywhere." The campaign features a mirror with a dirty black frame, placing who is in the reflection at the center of the show. " On Netflix, the fifth is the last season that you can watch. The sixth is happening in the real world ", describe the students.
Charlie Brooker, the creator of the series, commented some time ago that he has no plans to work on the next season of the original Netflix series, as real life is pretty bleak.
Although this campaign didn't reach the US, we believe it was a very clever campaign to keep the show alive during this pandemic! Having so many of us quarantined at home, many people were bound to binge watching Netflix. What a way to remind everyone about the Netflix Original, Black Mirror. Very creative campaign!